Oversized Red Grosgrain Long Front Tails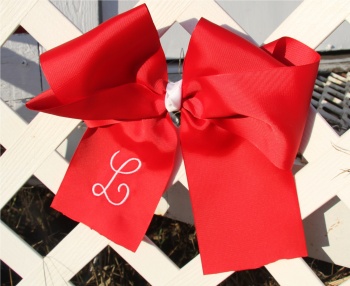 Enlarge Image
$8.99
Technical Specs:
Overall length: 10 inches
Overall Width: 9 inches
Overall Height: 2 inches
Ribbon width: 4 inch
Add embroidery, two inch initial on front tail of bow
UPC Code: 0.3
Made in USA
Product Description:

Looking for that over sized simply red grosgrain bow? This is the one! It has a four inch grosgrain ribbon that has 2 front long tails hanging down in the front. The center French knot was done in white to match the added on embroidery letter, but it can be done in any color of your choice. So match that favorite outfit or you school spirit colors any way you like it. The tails are 6 inches in length. Add on a two inch first initial in the Mono Curls font, as seen above for that perfect unique touch.


Quantity Available: 10