Turquoise White Polka Dots Feather Hair Bow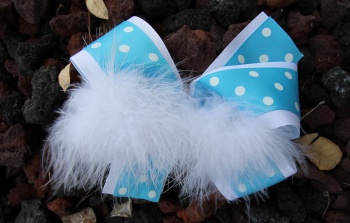 Enlarge Image
$11.99
Technical Specs:
Overall Length: 6 inches
Overall Width: 4 inches
Overall Height: 1 inch
Ribbon: 2.25", 1.5" , & 7/8" grosgrain
Clip Type: French Clip
Made in USA
Product Description:

Turquoise, feathers and polka dots all on one fabulous bow. This is a double lined grosgrain bow with a 2.25" white on the bottom and a 1.5" turquoise on top. The turquoise ribbon has white polka dots all over and then a white feather boa is on top. This feather dresses up the bow and really makes it sassy. The video will show a monogrammed first initial on the front tail, you can add this feature on and state what color thread you want in the check out.


Quantity Available: 10