Purple and Yellow Double Layered Grosgrain Hair Bow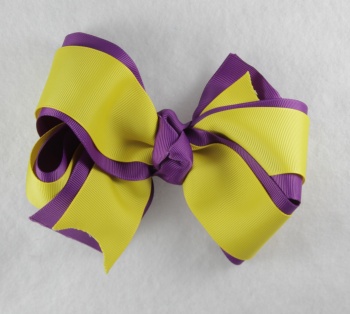 Enlarge Image
$8.99
Technical Specs:
Overall Length: 6 inches
Overall Width: 4 inches
Overall Height: 2 inches
Ribbon: 2.25" and 1.5" grosgrain
Clip Type: French Clip
UPC Code: 689466508338
Made in USA
Product Description:

This is a double layer of purple and yellow heaven. This is great for a school spirit bow to match your favorite team color. There is a 2.25" purple grosgrain ribbon topped with a 1.5" yellow grosgrain ribbon. The same purple ribbon wraps the center in a French knot and is on a French clip. This is a total of 70" ribbon, each layer has 35"!


Quantity Available: 9