Purple Peace Sign Double Layered Hair Bow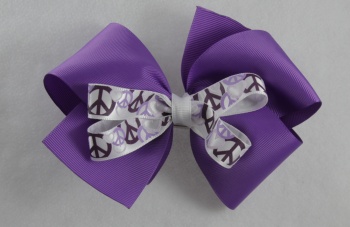 Enlarge Image
$9.99
Technical Specs:
Overall Length: 6 inches
Overall Width: 4 inches
Overall Height: 2 inches
Ribbon: 2.25" grosgrain and 5/8"satin
Clip Type: French Clip
UPC Code: 689466570014
Made in USA
Product Description:

Purple and Peace Sign Lovers this is your Bow! This is a stacked double layer bow with a 2.25" purple grosgrain ribbon on the bottom. This top bow is a 5/8" satin ribbon that has Dark and Light Purple Peace signs and lavender Hearts on it. This bow will help show off your Peace loving purple side!


Quantity Available: 10