Panda Faces Paisley Pink Hair Bow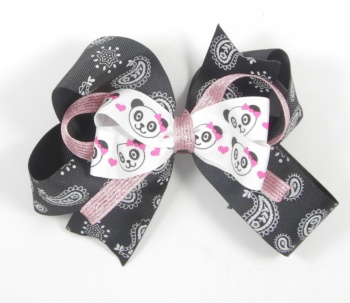 Enlarge Image
$9.99
Technical Specs:
Overall length: 5 inches
Overall width: 3 inches
Overall height: 2 inches
Ribbon width: 1.5"and 7/8" grosgrain, 3/8" satin
French clip
UPC Code: 689466570243
Made in USA
Product Description:

Panda and Paisley! Black white and Pink are great colors mixed together in one great bow. The bottom layer is a 1.5" black with white paisleys then a 3/8" inch pink shimmering sparkling ribbon lines the center. The top bow is a white grosgrain ribbon that has adorable panda faces with a hot pink bow in her ear and hot pink hearts. Your little girl will adore this bow and it will match all her outfits with these great colors.


Quantity Available: 10